Adam Davenport

Adam screams in Dude, Where's My Lab?

Portrayed by

Nickname

None

Bionic Abilities

Strength, Heat Vision, and Plasma Grenades

Family

Bree (Sister), Chase (Brother), Mr. Davenport (Father), Leo (Step-Brother) Tasha (Step-Mother)
Adam Davenport is the seventeen-year-old lab rat with a shocking strength rate.
His bionic powers are due to his tall height. His frustration could be considered additional powers.
He also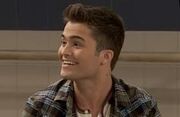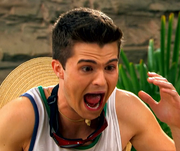 has laser vision which can be considered one of his glitches. Another glitch is grenades shooting objects
out of his hands when he gets too happy. He is the elder lab rat brother to his siblings Bree (sixteen years-old)
and
Chase (fifteen years-old.) ohh he loves his food and likes to fool aroud.
He like's Taylor Swift music
He messes around with Chase