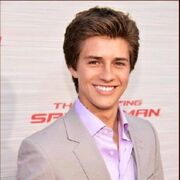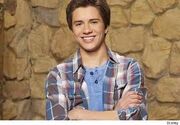 Billy was born in Palm Beach County, Florida. He has been modeling since he was little, and when he was 9 he decided he wanted to try acting. He enrolled in acting classes along with his older sister Erin, and younger brother Eric. Billy got noticed at the 2007 Pop Con by a casting director, and later moved to LA. He has been working there since.
He likes classic rock (like Bon Jovi, The Rolling Stones, and Aerosmith), but he also listens to newer stuff like Cold Play and The Jonas Brothers. His hobbies are skateboarding, surfing, and dirt biking. Billy is also a skilled martial artist, you can see examples of this in Opposite Day, Kickin It, Lab Rats, and The Lost Medallion. He is a fan of the Harry Potter movies, but hasn't read the books. Since he reads a lot of scripts every week, he doesn't like to spend much of his spare time doing it.
Billy graduated high school in July 2011 (three whole years early!) and will be starting college courses soon.
He started getting more notice when his episode of 'Sonny With A Chance' aired (Sonny With A 100% Chance of Meddling), and currently stars in his own Disney XD show, 'Lab Rats'. He has also guest starred on Disney XDs 'Kickin It!' and 'A.N.T. Farm' on the Disney Channel.