Dude, Where's My Lab?
Season 1, Episode 15
Air date
July 16, 2012
Written by
Marcus Alexander Hart
Directed by
Victor Gonzalez
Episode guide
Previous
Chore Wars
Next
Air Leo
Tasha takes the entire family on a nice 'tech free' beach weekend in the RV, but when Davenport discovers a solar flare headed in the Earth's direction, he secretly enlists the help of the Lab Rats. While Davenport distracts Tasha, the trio is forced to wait in the RV-turned portable lab for their rocket launch time window. Cooped up inside during their first summer vacation, Leo and the gang sneak out for a quick jaunt on the boardwalk but when they return the RV is gone.
Billy Unger as Chase Davenport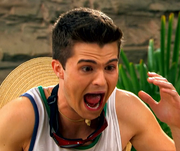 Spencer Boldman as Adam Davenport
Kelli Berglund as Bree Davenport

Tyrel Jackson Williams as Leo Dooley
Hal Sparks as Donald Davenport
Angel Parker as Tasha Davenport
Judson Mills as Beach Patrol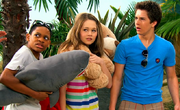 Unknown as Guy