Leo's Jam
Season 1, Episode 4
Air date
March 12, 2012
Written by
Heather Flanders
Directed by
Victor Gonzales
Episode guide
Previous
Commando App
Next
Rats on a Train
When Leo needs help asking a girl to the school dance, Adam and Chase step in to help, but the plan backfires when she falls for the wrong brother.
They made it look like Leo lifted up lockers that were on top of Adam. They thought Danielle (the girl that Leo was in love with) would think that Leo was strong but instead liked Adam. This caused much conflict between Adam and Leo. Chase got Adam to let Leo have the girl and went to talk to her. When he got there he told Danielle that her dating Adam was causing problems between Leo and Adam.  Danielle said it was sweet andd that she would go with him instead of Adam or Leo.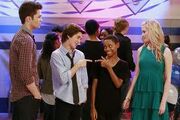 When Chase told the two, Leo jumped on him trying to attacking him but chase didn't feel any pain from the tiny teen. When they got home Leo said that Chase should get her and Adam said that he would win here at the dance. Leo tricked Chase. He taught him this ridiculous dance.
The boys decide to settle their differences on the dance floor and each show off their best moves. For the bionic boinic brothers it ended in trouble. Finally Leo walked in with a dance crew of women and won her. Meanwhile, Bree gets to know her crush, Ethan, but he gets to know her glitches when she was afraid to go with the boy to the dance.
The show ended in a dance number performed by Leo, Chase, Adam, and Bree.
Billy Unger as Chase Davenport
Spencer Boldman as Adam Davenport
Kelli Berglund as Bree Davenport
Angel Parker
 as [[Tasha Davenport|Tasha Davenport
]]
Garret Backstrom as Eathan
Ginny Gardener as Danielle
To view the Leo's Jam gallery, click here