Mission Space
Season 1, Episode 20
Air date
November 5, 2012
Written by
Chris Peterson & Bryan Moore
Directed by
Victor Gonzalez
Episode guide
Previous
Concert in a Can
Next
Speed Trapped (Season Two Premiere)
Leo, Adam, Bree, and Chase are at school where Marcus asked them if he could stay at their house for the weekend because his aunt abandoned him at his house. They let him come in. Then it is revealed Chase and the others have secret abilities (Chase's being moving objects with his mind) that Davenport does not know type or time. Marcus comes to thier house, but unfortunately, they have to go to space because Davenport's satellite was about to get hit by a meteor shower and the breach got locked. They get there and fix the breach but Adam accidentally(with his heat vision)breaks his security rope. All goes fine except Marcus found out about the lab. In the epilogue it is shown Marcus (at "home") working for a mysterious man who is probably Davenport's enemy. He talks about the infiltration in Davenport's lab with a secret camera.
Billy Unger as Chase Davenport
Spencer Boldman as Adam Davenport
Kelli Berglund as Bree Davenport
Tyrel Jackson Williams as Leo Dooley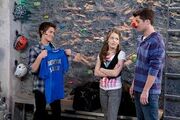 Hal Sparks as Donald Davenport
This is the last episode of season one
Edit