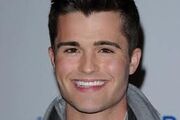 Spencer Boldman stars as Adam, one of three teen super-humans with bionic powers living in the basement lab of a wealthy entrepreneur's mansion, in the Disney XD live- action comedy series "Lab Rats." Most recently, Boldman wrapped production on the feature film, "21 Jump Street" starring Johnny Depp and Channing Tatum. On the small screen, Boldman has appeared on Disney XD's "I'm in the Band" and "iCarly."
Before moving to Los Angeles, Boldman appeared in a number of school and community plays in his native Texas including "A Mid-Summer Night's Dream" and "Grease."
Born in Dallas, on July 28, 1992, Boldman enjoys outdoor activities such as lacrosse, snowboarding and hiking.
Boldman has one older brother and currently resides in Los Angeles with his family and his golden retriever, Sadie.